Strange Doings at the Syracuse Invitational
an eyewitness account by Joe Schlobotnik
The full moon came three days too early. That's the only way I can explain the events which I have just seen occur. Others who took better notes can (and I'm sure will) provide the factual details, so here are my impressions.
The evening began normally enough. My mother and I arrived at the Onondaga County War Memorial in Syracuse, NY for the Syracuse Invitational Tournament. Colgate and Merrimack were to play the first semifinal at 5:15, followed by Cornell and Providence at 8pm. Shep Harder started in net for the Red Raiders, spelling Junior standout Dan Brenzavich. Colgate looked in the first like a team that hadn't played in a couple of weeks, as the Warriors outshot them 22-10 and won most of the physical battles as well. Harder did a good job to keep them in it, but got beat twice, once on the power play, and the period ended with Merrimack up 2-1 and 1:24 into a powerplay (caused when Brian Owens rode a Merrimack player into Harder at the end of a furious series that involved Harder at one point losing his catching glove.)
Between periods Mom and I went off to look for the Cornell hospitality room and were a little too late getting back, as we heard, but didn't see, Colgate score the equalizer shorthanded and 32 seconds into the period. This seemed to wake the Red Raiders up, and they played with much more intensity, outshooting the Warriors 15-13 (and being called for four penalties). They had an apparent goal waved off at the 12-minute mark (which led to coincidental roughing minors and an unsportsmanlike conduct penalty), but the period ended with the score tied at 2.
Then the hospitality room opened up; we heard Cornell coach Mike Schafer say a few words, met up with Mark Anbinder and met Cornell PA Announcer (and HOCKEY-Ler) Arthur Mintz, and enjoyed pizza and wings courtesy of the Cornell Hockey Boosters and the Alumni Association of Central New York. It was quite nice, but as might be expected, the first 15 minutes of the third period elapsed before we made it back. We were just in time to see Merrimack score their second goal of the period and go up 4-2. It seemed that the game had been decided in our absence and would simply run its course. But that was when the strange occurrences began. Merrimack coach Ron Anderson used his time out, and whatever he had to say didn't work, since Colgate scored shortly thereafter, with 2 or 3 minutes to go. Then Red Raider skipper Don Vaughn called his timeout, and with a minute and a half remaining called for a measurement on a Merrimack stick. I guess Mike Schafer made an impression on him when he used that trick in the Cornell-Colgate game back in January. The stick was indeed illegal (Has anyone ever seen this fail and result in the delay of game call? I can think of four instances where I've heard of it, and they were all successful.), giving Colgate a power play, but they were unable to score, and Merrimack advanced with the 4-3 win.
By this point it was nearly 8:00; by the time Cornell and Providence had warmed up and they'd re-surfaced the ice, it was 8:30 or so when the late game started. The Cornell crowd was a strange mix of straggling students and recent alums with older alumni from Syracuse. The Cornell Pep Band was not on hand, since there were only eight of them in attendance, which means I'm going to go over a year without seeing the "Hooligans with Horns" in action. In fact, none of the four schools brought a band, which was a real shame given the cheesy modern rock they piped into the arena between plays. There was a cowbell which appeared much later on, but I'm getting ahead of myself. A small group, which seemed to consist of Jeff "Beeeej" Anbinder and the eight bandies, split off from main Cornell section at center ice and parked themselves on the Providence goal line.
Cornell started sophomore Jean-Marc Pelletier, whom I saw play in last season's embarrassing losses to BU and Colorado College, but who has started 1-1-1 this year. The game began well for Cornell, with two goals a minute apart in the first. But Providence struck back on the power play to make it 2-1. Cornell also failed to help their power play numbers, failing to convert, despite a couple of shots off the post on the same opportunity in the second. They did manage to get some insurance and go up 3-1. Things seemed to be getting late when the Nine Standers (who had moved to the opposite corner of the arena) called out, "It's 10pm; do you know where your goalie is?" Little did we know.
I hope I'll be forgiven if my memories of the third period are a little hazy, in light of what happened later. I do remember vividly the sight of the second Friar goal of the period sailing over Pelletier's left shoulder into the net to tie the game at 3. Regulation expired with the score thus knotted and here I was, having never attended an overtime game in any sport before last week's 3-2 Blackhawks loss, staring at another five minutes of sudden death. This time I managed to dash to the bathroom in the brief pause (a ritual of mine from watching OT on television). The entire period was overshadowed by one of the strangest things I've seen in any sporting event. With a minute and a half remaining and a faceoff coming in the Cornell end, the players began yelling at the officials and pointing at the Providence goal. There was a long brown puddle in front of Friar goalie Dan Dennis, and I thought someone had thrown a cup of coffee at him. But then he lifted his mask and vomited again. Again, it was very strange. I don't know if he was sick or just nervous, but after the long delay to clean the ice (during which we all tried to make sense of what we'd seen; Mom asked Mark Anbinder if he would be including this in his report for 14850 magazine and he showed her the note recording the event at 3:24 of the first overtime), he was back in goal. Providence coach Paul Pooley complained that his team shouldn't have been charged a timeout because of the incident, and Mark pointed out that as a timeout is not supposed to be assessed in case of injury, he had a point. At any rate, Dennis managed to avoid facing any shots before the period ended. I asked Beeeej during the intermission why his party hadn't come up with any chants for the occasion, but he said they'd felt sorry for the guy. Not to mention that they were closer to it than most. A few people sitting near us had had no such compunctions, and chanted "You just puked!"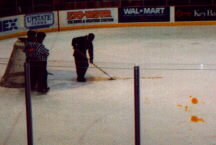 When the overtime ended, we learned that the contest would not be settled on penalty shots (I can only imagine how Dennis would have handled that), but by 20-minute sudden death periods. Mid-way through the first of these, Cornell managed a powerplay. All four teams were playing fairly physical hockey, and the Colgate-Merrimack game showed some danger of becoming chippy. Then in the late game, 6'6" Providence captain Hal Gill seemed to dedicate himself to baiting Cornell's Tony Bergin. During the end of the game and the overtime, a series of Providence infractions (those were of course the ones I noticed) went un-called, but referee Gallagher decided that one of them was too egregious, and re-asserted control at that point. Cornell nearly gave up a short-handed chance towards the end of the power play, and played very poorly for the rest of the period, turning the puck over in the neutral zone numerous times. Pelletier came up big to help the Red survive the period.
As the clock ticked past midnight, we entered the third overtime and I began to ask all the questions I'd heard from the Maine-Michigan semifinal: does the period indicator have two digits? Does the shot indicator have three? I also reckoned that finishing the period would make the game 105 minutes long, and the longest in men's college history. But then came the following play: a Cornell player (I want to say it was Knopp or Papp) skated across the blue line and wound up for a slap shot, but broke his stick. Seeing Merrimack gain control, I watched him skate over to the bench for fresh lumber; suddenly everyone yelled and when I looked back at the goal the light was on and the game was over. Beeeej tells me David Adler made a beautiful, gutsy shot from the point to score his first goal and give Cornell the 4-3 victory. If the scoreboard is to be trusted (and given that the announcements of times, saves, etc. were often inconsistent, that's by no means certain), Pelletier finished the game with 52, and Dennis, despite his adversity, with 40.
So, there you have it, two completely different 4-3 scores, 155 minutes of hockey, curved sticks, goalies becoming ill... Tomorrow Colgate faces Providence in the consolation and Cornell takes on Merrimack for the title. After what went on tonight, I'm afraid to guess what the future will bring...
---